Our Work For the Environment
Environmental Governance And Mainstreaming Project
"Promoting sustainable environmental governance through
Innovative partnership"
Duration: 2014 to 2016
Supported by: European Union
Implementing partners: Green Scenery, Search for Common Ground, Christian Aid and Ministries, Departments and Agencies of the Government of Sierra Leone
In order to increase the environmental understanding of citizen groups, particularly the rural poor, the private sector, the youth and women, the project aimed at educating and sensitizing Sierra Leoneans on the consequences of their actions. Under the Slogan "Promoting Sustainable Environmental Governance Through Innovative Partnerships", the EGMP advocated for environment friendly policies and sustainable corporate practices.
The increasing demand for agricultural land for food and non-food crops and the related widespread poor farming practices lead to the shortening of fallow periods. This together with urban development and the increasing need for timber and fuel wood are factors contributing to land degradation, deforestation, loss of bio-diversity and other ecologic malfunctions like climate change. A growing number of illegal, unreported and unregulated fishing as well as harmful fishing practices have in recent years posed a threat to the fisheries sector and the food security of Sierra Leone, where fish comprises a large part of animal protein consumed nationally. According to the World Bank, poor sanitation and hygiene together with other environmental factors like a lack of effective waste management, do not only lead to malnutrition but also increase the burden of diseases on people.
Achievements of the project include:
Workshops to raise awareness on influencing environmental sustainability and corporate culture and to develop strategies and guidelines applicable to the unique environment of every business amongst private sector. A communique was developed by the private sector actors indicating their commitment to ensure environmental sustainability.

A business champion award served as a follow-up to the private sector engagement

Two documentaries were successfully produced; one highlighting harmful practices of fisheries and the other harmful agricultural practices.

Media engagements (TV – radio discussions, use of other social media like Facebook, WhatsApp, SMS messaging) were also functions of the awareness raising components of environmental sustainability

Other activities done by partners to ensure education on environmental sustainability include: the development of School Nature Clubs, erection of billboards indicating messages of environmental sustainability, radio dramas and jingles on environmental sustainability
"To reduce poverty we have to find sustainable ways of using our natural resources"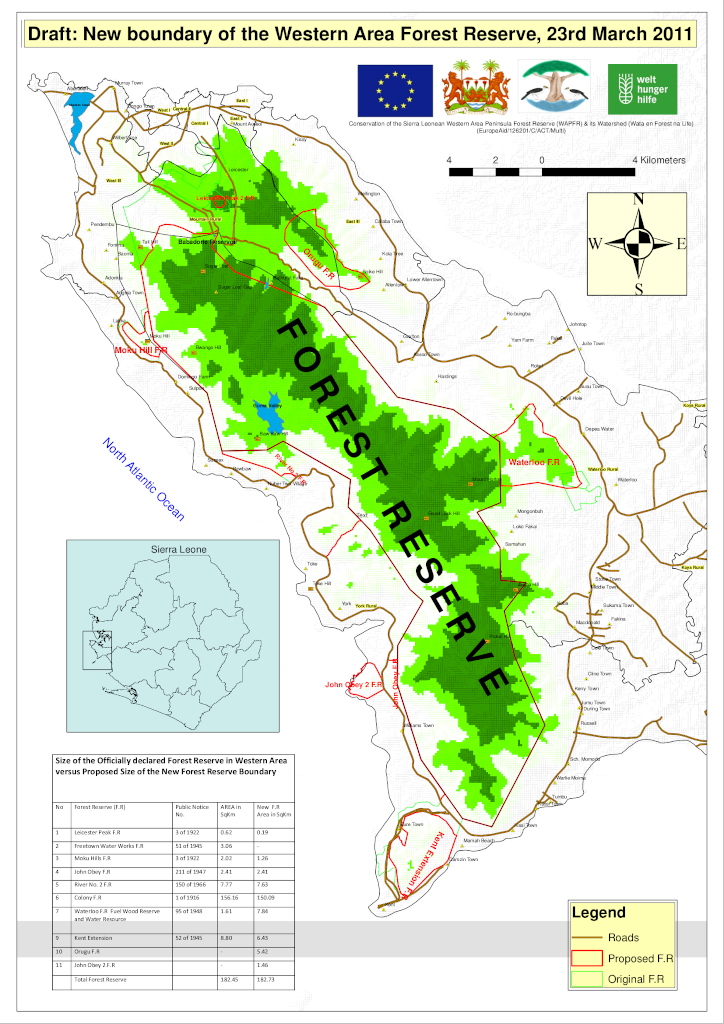 Project: Conservation of the Western Area Peninsula Forest Reserve (WAPFoR) and its Watersheds

Duration: 2009 to 2011

Supported by: European Union and Welthungerhilfe (WHH)

Implemented by: Welthungerhilfe (WHH), Environmental Forum for Action (ENFORAC), in collaboration with the Forestry Division within Ministry of Agriculture, Forestry and Food Security (MAFFS) and Environmental Protection Agency (EPA) within the MLCPE
The overall objective of the project was to introduce participatory processes in decision making on the sustainable use of natural resources that contribute to the reduction of rural poverty in the Western Area Peninsula (WAP) and to conserve and sustainably manage the Sierra Leonean Western Area Peninsula Forest Reserve (WAPFoR) and its watershed.
Activities:
Undertake Participatory Rural Livelihood Assessment (PRLA) study

Identify strategic income generating (IG) and livelihood options (LO) for communitiefrom the study

Design a comprehensive action for a sustainable IG and LO that reduces or avoids negative activity on the WAPFoR

Apply these into requisite communities
Empower Youth and protect the tropical rain forest
Project: Project for Youth Empowerment and the Sustainable Management of the Western Area Peninsula Forest

Duration: 2006 to date

Supported by: UNDP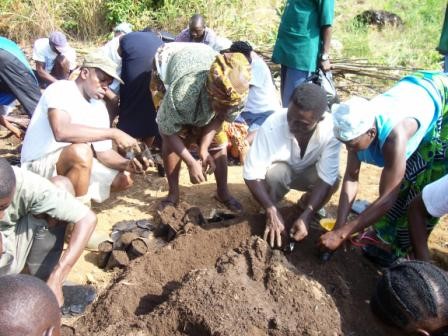 Green Scenery works with Community Based Youth Groups living in proximity to the Western Area Peninsula Forest Reserve (WAPFR). The community lives by the coast and depends on fishing for livelihood. Fish smoking accounts for large consumption of firewood, the bulk of which is obtained from the forest.
The rate of deforestation and land degradation of the area is alarming. The major threats to the reserve are including illegal farming practices, hunting, wood cutting, illegal logging, stone mining and urban settlement expansion. Fuel wood collection and charcoal burning accounts for 50% and 47% respectively according to a research conducted in 2004 by the Conservation Society of Sierra Leone (CSSL).

The WAPF is rich in biodiversity and is of international importance. It serves as habitat to globally threatened species including the endemic toad Cardioglossus aureolli and the white-breasted picarthetics. It is a gazetted reserve forest of Sierra Leone, yet it has been severely degraded due to encroachment for the construction of permanent settlements, shifting cultivation, illegal logging, charcoal burning and firewood harvesting.
Many landless inhabitants live around the WAPF and most of them are jobless, majority being the youth. Exploitation of the forest resources is primarily done to provide alternative means of livelihood and not just to be destructive.
Activities:
Nursery and silvicultural practices

Capacity Building in organic manure production

Agro-forestry practice on 30 acres of land

Tree planting for alternative source of fire wood

Capacity Building in natural resource management

Training in project and financial management

Construction of bakery and support to bread production as alternative source of income
Gbongokama Community Forest Assessment & Livelihood Support
Project: Assessment of Gbongokama Community Forest, Community Awareness raising and Public Education on Role of Forests
Duration: 2010
Supported by: International Union for Conservation of Nature, The Netherland
The hundred years old forest of Gbongokama located in Bonthe District, 230 miles from Freetown is one of the worlds hot spots of biodiversity. Unfortunately, like many forests in Sierra Leone, it has been depleted through logging over the last decade. In 2006, the Gbongokama community approached Green Scenery for assistance for the protection of the remaining forest remnant in their domain.
Green Scenery has conducted various projects in the Gbongokama forest. Initial projects concentrated on identifying the ecological value of the forest and the best way to protect it. Subsequent activities implemented the strategies selected. Over the years Green Scenery has involved the communities in tree planting to reforest the fringes of the forest, provided livelihood alternatives to the inhabitants to prevent further logging, and sensitize them to the need to create local groups to protect the ecology of the forest